Monitor All Your Assets In One Place.
With near real-time access to data, there is no more scalable, widely used platform for remote telemetry management than Anova Transcend™. Whether branded for your customers or used in-house, Anova Transcend supports monitored tank data with the powerful software. Digitizing the industrial gases supply chain at any scale has never been easier.
BEAUTIFUL VISUALIZATIONS.​
Simplifying the complex. Your data brought to life, for your operational ease.

INSTANT INSIGHT.
Make informed decisions and act, with confidence.

DASHBOARDS, YOUR WAY.
Customizable dashboards to focus on what matters most.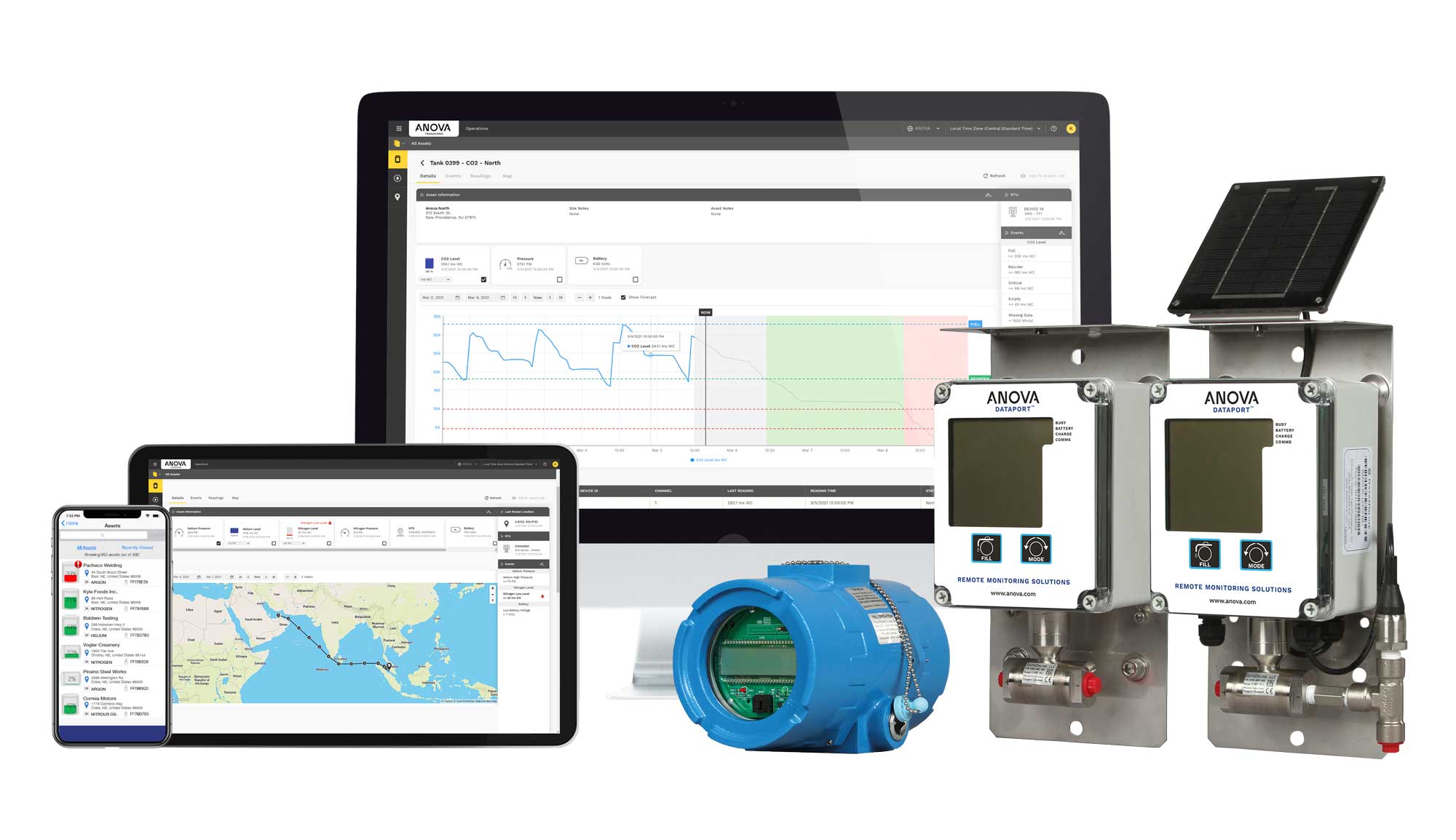 Near Real-Time Speed
Timely access to data backed by state-of-the-art cloud-based storage.
Highly Scalable
Able to support hundreds of thousands of assets with multiple measurements.
Easy RTU Management
Easily edit RTU settings, edit detailed asset info such as location, capacity, etc,
Powerful Analytics
Create customized reports and beautifully visualized custom charts to gain actionable insight into your operations
Ultimate Safety
Ensure safety and enable preventive maintenance with custom thresholds to trigger alerts and notifications.
Integrated ERP Connectivity
Exchange and share data with back-office systems, including SAP and others.
Expert Customer Support
Dedicated technical support with decades of experience in industrial gases, chemicals, and software integration.
Track Your Mobile Assets
Integrated mapping for intelligent route planning and mobile asset tracking via GPS. Trigger geofence-enabled alerts such as departure, arrival, waypoint, or route deviation.

Convenient, Anywhere Access
Supported by multiple browsers. Runs on tablets, laptops, and desktops.
Apply Your Own Branding
Rebrand the application with your logo for in-house or customer users.
READ THE PRESS RELEASE ON CISION/PRNEWSWIRE

Get in touch with Anova and download the Anova Industrial Gases Solutions Booklet:
Complete the form above to speak with an expert about Anova Transcend and explore how this solution can help your business
.